Etusivu Tieturi – a reliable training partner Testimonials
Customer testimonials and references
Good customer experiences, satisfied customers and long-lasting cooperation are a matter of honour for us. Read our customers' stories about our training courses and training solutions.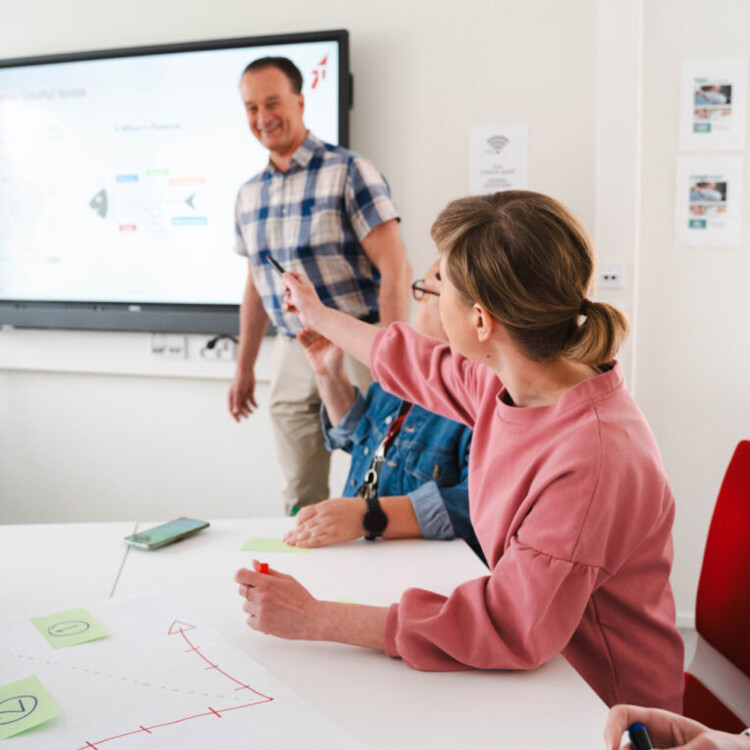 Helping to develop AWS skills
CGI
Tieturi is CGI Finland's training partner in ICT training.

The goal of AWS cooperation is to achieve a competitive level of expertise and to ensure that top experts reach the sharpest edge in AWS technology.

These are implemented with a certification program (Cloudeamus), where Tieturi has acted as the main partner. The program has been implemented annually in two different implementation times.
Scania
During first half of 2018, after having been approached by Informator's Key Account Manager, Informator and Scania Cloud adoption team in dialogue agreed upon a plan to meet Scania Cloud Adoption's needs and goals in regard to number of trained and certified individuals.

The courses (including exam readiness) covered all tiers i.e. Fundamental, Associate and Professional with a plan to later discuss Speciality courses.

All these courses were also transferred to Scania Academy to make them available to all Scania personnel.
Fellowmind experts supporting lifelong learning
Fellowmind is a specialist company in modern business systems, cloud and security solutions, data and AI, and modern working, supporting its customers in all phases of their business development.
Tieturi has been a training partner of Fellowmind since 2019. One of the main reasons for Fellowmind to choose Tieturi as their training partner was the wide range of training courses.
Scrum training to support change at CSC
CSC – Tieteen tietotekniikan keskus is a Finnish centre of excellence in information technology owned by the state and higher education institutions, which provides its customers with internationally high-quality ICT expert services.
In its move to agile methods, CSC chose Tieturi as its training partner. The Scrum trainings have supported the change process and changed the culture of the teams in a positive direction.
The introduction of Scrum has increased customer focus and job satisfaction at Palkeet
Finnish Government Shared Services Centre for Finance and HR (Palkeet) is a major provider of corporate services within the Ministry of Finance. Palkeke aims to contribute to the functioning of the public administration by providing high-quality and cost-effective support and expertise in financial and human resources management.
Over the past couple of years, Tieturi has delivered training courses for Palke, from Scrum Basics to Scrum Master and Product Owner training. The trainings have been popular and suited to the organisation's needs. The introduction of Scrum has increased Palke's customer focus and job satisfaction.
Piceasoft's training needs were solved in an innovative way
Piceasoft has created a unique software solution to cover the entire lifecycle of mobile devices. These solutions create new business opportunities and enable cost-effective service for mobile operators and retail chains.
It all started with a business development need based on a competency mapping and new strategic direction by software development company Piceasoft. This was followed by an innovative trainer selection process between Piceasoft and the Pirkanmaa ELY Centre, in which half a dozen relevant trainer candidates participated. After joint discussions and a tender process, Tieturi Oy was selected as the trainer.
Verkkoasema Oy uses the training card in a variety of ways in its development work
Verkkoasema Oy is a digital marketing and software company founded in 1997. The company has invested in continuous training and self-learning – which is what the industry demands.
The wide range of courses offered by the training card and the possibility for staff to choose their own topics and dates were seen as the right approach and a way of facilitating training.
Tieturi's expertise to support TAMK students
What do you get when you make Tieturi's expertise available to students at Tampere University of Applied Sciences? The end result is new skills for working life, in line with TAMK's strategy.
Tieturi's expert was involved in training TAMK's Business Tradenomin degree students as part of their compulsory marketing training, as a hand up for the university.
Natural Resources Institute Finland (Luke) – from expert organisation to project organisation
The research and expert organization at the Natural Resources Institute Finland is working to promote the sustainable use of natural resources and bioeconomy. The researchers and experts working at Luke produce new solutions for the sustainable development of the Finnish bioeconomy and the promotion of new sources of livelihood.
Tieturi has helped Luke with developing project models and training researchers and experts in smooth project work.
Prime Minister's Office – decades of cooperation
The Prime Minister's Office (VNK) is in charge of overseeing the implementation of the government program and aids the Prime Minister in leading the government. The office's tasks include Finland's EU policy and government ownership as well as the ownership steering of state-owned enterprises.
The Prime Minister's Office has cooperated with Tieturi for decades. The Prime Minister's Office is also in charge of the training offered to other ministries.
GTK – digitalising the workplace with the Arkidigi training
Geological Survey of Finland (GTK) is an organization consisting of approximately 420 experts. It generates success for its customers and interest groups through geological expertise. GTK supports its experts' diverse competence and work by offering them the 'Arkidigi' training entity tailored together with Tieturi.
ECHA
European Chemicals Agency (ECHA) has a long and well-functioning cooperation with Tieturi Oy. ECHA employs 564 experts in several fields and supports the constant development and learning of its personnel.

We chose Tieturi as our partner due to the high quality and wide variety of courses in English. Our personnel have participated in courses from Excel to testing and from Windows 10 to framework. All the courses are tailored to our needs and well organized. We have a good and open communication with Tieturi and they always listen to our wishes and feedback. We appreciate the professionalism of Tieturi.

To it, Tieturi's lectures are experts both in their field and in lecturing. Courses are very practical, and emphasis is in real tasks and challenges we face, ie. at the website-course the participants develop ECHA's website and thus get the best benefit from the course.

Our personnel gives very good feedback of Tieturi's courses and are always willing to participate in them. Courses are held at ECHA's premises which is very convenient for us as well.
– Ania Kieniewich, HS Assistant at ECHA –
Online courses
I attended the ASP.NET Core & MVC online course. This was my first online course experience, and I think everything went really well. There were no technical issues with audio or video, and it was easy to participate from home.

Pontus was an excellent trainer. He had comprehensive knowledge of the theme and he made sure that each participant could keep up during our two-day intensive course. The training material was also outstanding, and I especially liked the additional material we were given, because with it, you can keep learning about the theme even after the course is over.

The only thing that was lacking for me on this online course was the social contact on coffee and lunch breaks. But the online course was a deliberate choice for me to save time and money as well as the environment.
– Niclas Sannholm, Granlund Ab –