Etusivu Trainings Project management Project work
Project work
The project manager plays a major role in the success of a project, but the success of a project also depends on the project work skills of the whole team and the organisation.
See the trainings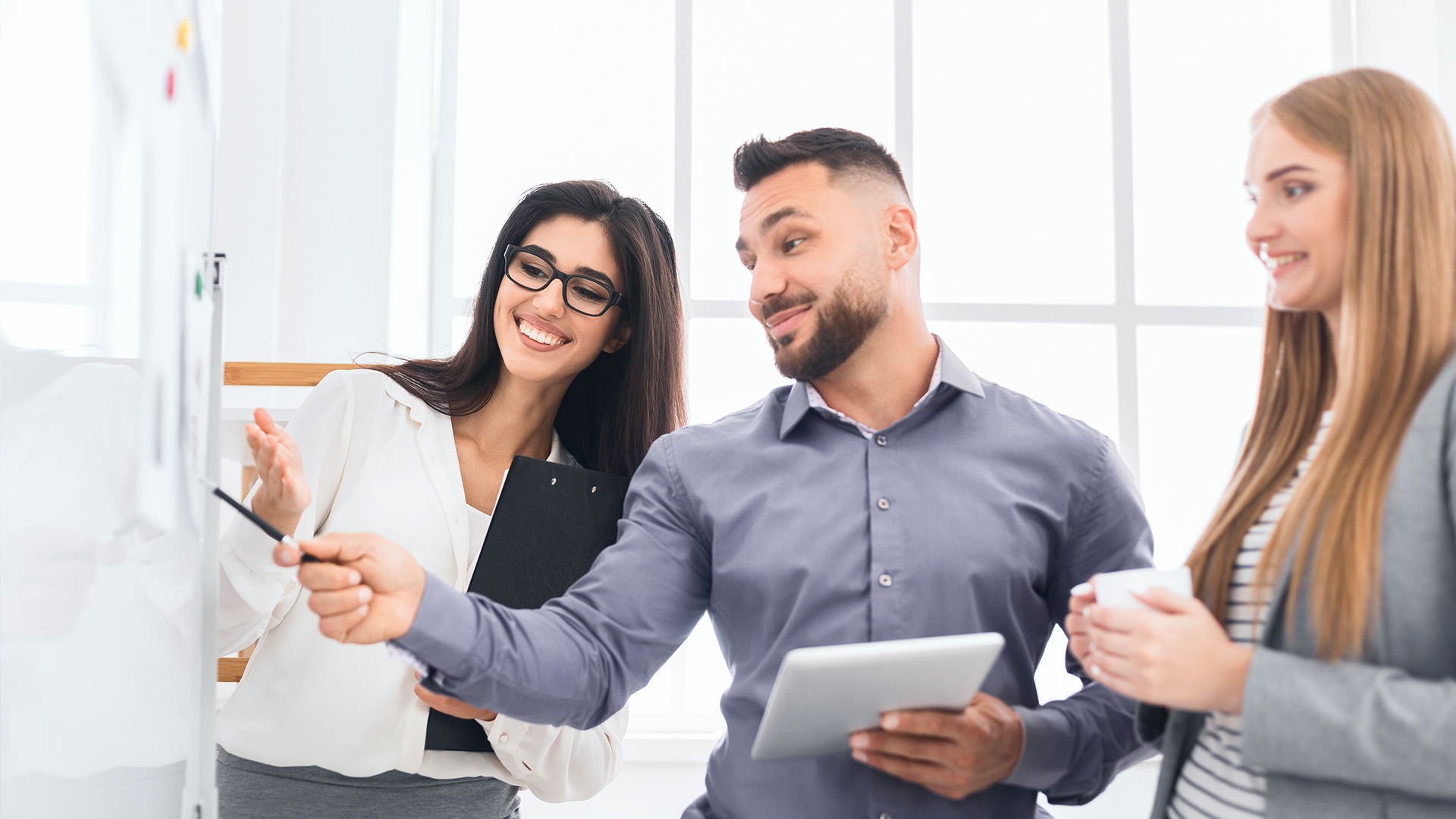 Project management is like a new civic skill, as almost everyone today works on projects in one way or another. And rightly so, because projects offer an effective way to achieve goals, implement change and develop business.
Projects focus on clear objectives, timelines and resource management, which helps you work efficiently. The project triangle as a visualisation of the dependency between the goal (scope), time and cost of this project is, in all its simplicity, very effective. A clear start and end to the project gives a sense of poise, and the objective should be clear from the outset of the project.
However, many projects also fail. There are many reasons, but by building up project skills, a lack of project skills can be crossed off the list. While the project manager is the key to a successful project, the project team and the organisation as a whole have a major role to play in project success.
A project manager is often a specialist in his or her field who has been given responsibility for a development project related to his or her work. There is a huge amount of domain knowledge, but not necessarily much project management skills. You learn by doing, but the project management skills of your own organisation or colleagues may not be the best practice. As you work on projects, come and develop your skills and ensure more successful projects.
What should a project manager know?
Today's project manager is a true multi-tasker. He or she should master both project management and project leadership. They should be familiar with both traditional project planning methods and agile methods and strive to succeed in scheduling, project communication, accountability, motivation, monitoring and risk management. In addition, more and more clients or partners are setting their own requirements by demanding project certification (IPMA, PRINCE2®, PMP) from the professionals involved in the project.
In the most traditional sense, good project management is the most important skill for a project manager. This means the ability to plan, organise, monitor and control projects effectively – in the traditional waterfall model of implementation. However, often in surveys by various project associations (PMI, IPMA) in Finland and abroad, the most challenging area is perceived to be interpersonal collaboration and leadership. A project manager, without being a first person, must be able to lead a project team and motivate its members. They must be able to guide, instruct and give clear feedback. Communication is also an important part of the project manager's job. Skills are needed in both sending and receiving messages. The project manager must be able to maintain an active dialogue with key stakeholders and keep not only the project team but also the steering group closely involved in the implementation of the project.
What kind of project training is right for you?
We offer training for project managers and project team members alike, whether you're new to the project world or a well-experienced veteran. The trainings will give you the opportunity to get to grips with both theory and practice, and you'll get the best tips from experienced project professionals.
Training for project team members
As the name suggests, our Project Basics course provides a basic level of project-based skills. It is suitable, for example, for project team members or other professionals whose work is linked to projects, but who are not project managers.
Another challenge in project work can be the functioning of a steering group or the absence of a steering group. An effective steering group significantly improves productivity, but unfortunately often the role and responsibilities of the steering group are lost. That's why we also offer training in steering group work.
If your job description involves looking at your organisation's project activities from a broader perspective, for example considering the strategic orientation of project placement, the value of projects in relation to your organisation's strategic objectives or prioritising your project portfolio, our Project Portfolio Management training (LINK TO TRAINING) will provide ideas and practices for your work.
Training for project managers
As a current or future project manager, our training courses will enable you to cover the basics of project management as well as the most demanding project frameworks, not forgetting certification and various project tools.
Our Project Champion 2.0 training programme is designed for experienced project managers. It provides you with practical tools and methods to learn the key elements of a successful project, including communication, leadership and agility, guided by experienced professionals in these areas.
The title of the training, Essential Skills for Project Managers, succinctly describes its content. This course will give you the right methods to work as a project manager. Many participants will already have experience of working as a project manager, but will want to check and mirror their own project management approach against tried and tested practices.
If you work as a project manager on IT projects, our Information Systems Project Planning and Execution training is designed for you. In this course, you will learn the key methods of project management in the same way as in the Project Planning and Execution course, and also delve into the specifics of information systems projects.
The increasing emphasis on people management in the project manager's work is the focus of the Skilled Project Manager's Leadership Skills – Managing Experts course. This training will give you the tools and skills to develop your own leadership and interpersonal skills.
At least a basic knowledge of agile will also become part of the project manager's skill set. In our Agile Project Management training, you will learn the differences and similarities between project-based and agile approaches, and in what situations both are best used. This course aims to link these two fundamentally different approaches to each other, as more and more project managers are coming across hybrid approaches that use both.
You will also find many other training courses that meet today's project manager's skills needs, such as cloud computing basics for project managers and OKR (Objectives and Key Results) basics. Take a closer look at all our project training courses.
Tieturi has years of experience in training project professionals. Our trainers receive consistently good feedback and are always developing their own skills. Join us and become an even better project professional!
Tieturi is an Accredited Training Organization (ATO), ACCREDITED BY PEOPLECERT ON BEHALF OF AXELOS.
PRINCE2® is a registered trade mark of AXELOS Limited, used under permission of AXELOS Limited. All rights reserved.