SAFe Release Train Engineer with RTE certification






Facilitate and enable end-to-end value delivery through Agile Release Trains (ARTs) - and learn how to build a high-performing ART through servant leadership and coaching - by becoming a SAFe® 5 Release Train Engineer (RTE). 
During this three-day course, gain an in-depth understanding of the role and responsibilities of a Release Train Engineer (RTE) in the SAFe enterprise. Through experiential learning, examine the RTE role in a Lean- Agile transformation. Learn how to facilitate ART processes and execution, coach leaders, teams, and Scrum Masters in new processes and mindsets. Explore how to prepare, plan, and execute a Program Increment (PI) planning event, the primary enabler of alignment throughout all levels of a SAFe organization.
Unique to SAFe®, the Release Train Engineer (RTE) is part of the trio of leaders that includes product managers and system architects. This plays a critical role in leading Agile Release Trains (ARTs) to deliver value. This means that the RTE must create the right environment, have the right conversations, facilitate the right meetings, and gather the right people to make decisions based on the right data.
SAFe® and Scaled Agile Framework® are registered marks of Scaled Agile, Inc.
Target Group
RTEs and Value Stream Engineers (VSEs)
Program and project managers
Scrum Masters
Leaders and managers
Agile coaches
SAFe Program Consultants (SPCs)
Goal
After this course, you know:
how to lead programs and large solutions in a SAFe organization.
how to apply Lean-Agile knowledge and tools to release value.
how to foster relentless improvement.
how to build a high-performing ART by becoming a servant leader and coach.
Prerequisites
All are welcome to attend the course. However, the following prerequisites are highly recommended for those who intend to take the SAFe® Release Train Engineer (RTE) certification exam:
Have participated in at least one ART and one PI
Hold at least one current SAFe certification
Preparation for the SAFe RTE course 
Ahead of attending this course we'd suggest participants explore the Full SAFe Configuration at the Scaled Agile Framework. The icons are clickable, and they will take you to the relevant article. The following articles are recommended reading:
SAFe Release Train Engineer with RTE certification - Course Content
The training is based on the version 5.1 (the latest)
This three-day course prepares attendees for the SAFe® 5 Release Train Engineer (RTE) Certification exam.
In the SAFe® RTE course, you'll learn to execute SAFe and continuously improve PI Planning and other key SAFe events. You'll discover how to coach leaders, teams, and Scrum Masters in new processes and mindsets. And you'll get the guidance and tools you need to work effectively in remote environments with distributed teams.
SAFe RTE course content
Exploring the RTE role and responsibilities
Applying SAFe Principles
Organizing the ART
Planning a Program Increment
Executing a Program Increment
Fostering Relentless Improvement
Serving the ART
Continuing Your Learning Journey
SAFe Release Train Engineer (RTE) certification examination
This training prepares you for SAFe® 5 Release Train Engineer Exam
You must attend all days of the course in order to be eligible for the exam
You take the exam using your own computer any time within 30 days of the training, only internet access is needed.
Exam cost: First exam attempt is included as part of the course registration fee if the exam is taken within 30 days of course completion
Exam Format: Multiple Choice
Exam Delivery: Web-based; closed book, no outside assistance, timed
Exam Access: Candidates can access the exam within the SAFe Community Platform upon completion of the SAFe 5 RTE course
Exam Duration: Once the exam begins, you have 120 minutes to complete the exam
Number of Questions: 60
Passing Score: 45 out of 60 (75% passing score)
Attendees who pass the SAFe Release Train Engineer (RTE) exam will receive:
Certified SAFe® Release Train Engineer PDF certificate
Certified SAFe Release Train Engineer digital badge to promote your accomplishment online
One-year membership to the SAFe Community Platform, which includes access to the RTE Community of Practice
Access to Meetup groups and events that connect you with other SAFe Certified Professionals
Access to a variety of learning resources to support certified professionals during their SAFe journey
Trai­ning ma­te­rial
The training material is in English. The training is run by using official material provided by Scaled Agile, Inc.
Trainer
This training is provided with Cprime.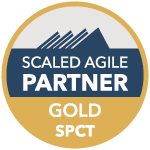 Schedule
Course days begin at 9:00 and end at 17:00.
Testimonials
Loistava 6/6!
Vaikka olikin etäkoulutus, niin kouluttajan innostava ote sai koulutukseen hyvän, avoimen ja keskustelevan ilmapiirin.
Pystyimme pureutumaan oikeisiin ongelmiin ja miettimään niihin toimintatapoja.
You might be interested in these courses: