SAFe Product Owner/Product Manager with POPM Certification






Delivering value through effective Program Increment execution according to the Scaled Agile Framework SAFe, version 6. Develop the skillsets needed to guide the delivery of value in a Lean enterprise by becoming a SAFe® 6 Product Owner/Product Manager (POPM). During this two-day course, attendees gain an in-depth understanding of how to effectively perform their role in the Agile Release Train (ART) as it delivers value through Program Increments. Attending the class prepares you to take the exam and become a certified SAFe Product Owner/Product Manager (POPM).
Attendees explore how to apply Lean thinking to decompose Epics into Features and Stories, refine Features and Stories, manage Program and Team backlogs, and to plan and execute Iterations and Program Increments. Attendees also discover how the Continuous Delivery Pipeline and DevOps culture contribute to the relentless improvement of the ART.
Attendees may be eligible to apply for 15 PDUs toward their continuing education requirements with the Project Management Institute (PMI) for PMP and PMI-ACP certifications.
SAFe® and Scaled Agile Framework® are registered marks of Scaled Agile, Inc.
Training formats
Remote
Classroom
Target Group
A Certified SAFe Product Owner/Product Manager is a SAFe professional who works with customers and development organizations to identify and prioritize requirements.
Thus this SAFe PMPO training course is targeted to following professionals:
Product Managers, Product Line Managers, Product Owners, Business Owners, and Business Analysts
Solution Managers, Portfolio Managers, Program Managers, PMO personnel, and Process Leads
Enterprise, Solution, and System Architects
Goal
After this course, you can:
Articulate the Product Owner and Product Manager role
Connect SAFe Lean-Agile principles and values to the PO/PM roles
Decompose Epics into Features and decompose Features into Stories
Refine Features into Stories
Manage Program and Team backlogs
Collaborate with Agile teams in estimating and forecasting work
Represent Customer needs in Program Increment Planning
Execute the Program Increment and deliver continuous value
Prerequisites
All are welcome to attend the course, regardless of experience. However, the following prerequisites are highly recommended for those who intend to take the SAFe® Product Owner/Product Manager (POPM) certification exam:
Attend a Leading SAFe® course
Experience working in a SAFe environment
Experience with Lean, Agile, or other relevant certifications
SAFe Product Manager/Product Owner with PMPO Certification - Course content
Becoming a Product Owner/Product Manager in the SAFe enterprise
Preparing for PI Planning
Leading PI Planning
Executing Iterations
Executing the PI
Becoming a Certified SAFe Product Owner/Product Manager
SAFe Product Owner/Product Manager (POPM) certification examination
This training prepares you for SAFe® 6 Product Manager/Product Owner Exam
You must attend both days of the course in order to be eligible for the exam
You take the exam using your own computer any time within 30 days of the training, only internet access is needed.
Exam cost: First exam attempt is included as part of the course registration fee if the exam is taken within 30 days of course completion
Exam Format: Multiple Choice
Exam Delivery: Web-based; closed book, no outside assistance, timed
Exam Access: Candidates can access the exam within the SAFe Community Platform upon completion of the SAFe 6 Product Owner/Product Manager course
Exam Duration: Once the exam begins, candidates have 90 minutes (1.5 hours) to complete the exam
Number of Questions: 45
Passing Score: 33 out of 45 (73% passing score)

Attendees who pass the SAFe Product Manager/Product Owner exam will receive:
A SAFe Product Owner/Product Manager certificate
A SAFe 6 Product Owner/Product Manager digital badge to promote your accomplishment online
A one-year certified membership as a SAFe Product Owner/Product Manager, which includes access to the POPM Community of Practice
A SAFe Product Owner/Product Manager certification usage guide with POPM certification marks
Access to a variety of learning resources to support certified professionals during their SAFe journey.
Training material
The training material is in English. The training is run by using official material provided by Scaled Agile, Inc.
Trainer
The remote delivery of this training in Finnish is provided with Loihde Advance and in English with Olingo. Both are Scaled Agile bronze level partners.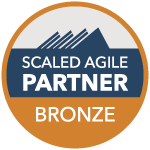 Schedule
Course days begin at 9:00 and end at 16:30, breakfast available from 8:15 forwards.
Testimonials
Kokonaisuus oli onnistunut ja hyödyllinen.
Oikein hyvä kouluttaja, joka piti aiheen mielenkiintoisena useilla esimerkeillä ja sai ryhmän keskustelemaan aktiivisesti
Erittäin selkeä koulutus
Good practical examples
Mukavasti toimi myös jako erillisiin virtuaalisiin työskentelyryhmiin ja työskentely yhteisellä virtuaalisella tehtäväalustalla.
Koulutuksen materiaalit olivat hyvin kattavat, hieman liiankin ylitsevuotavat.
Koulutus tarjosi tietoa ja harjoituksia, joista kykenin ammentamaan tietoa.
You might be interested in these courses: