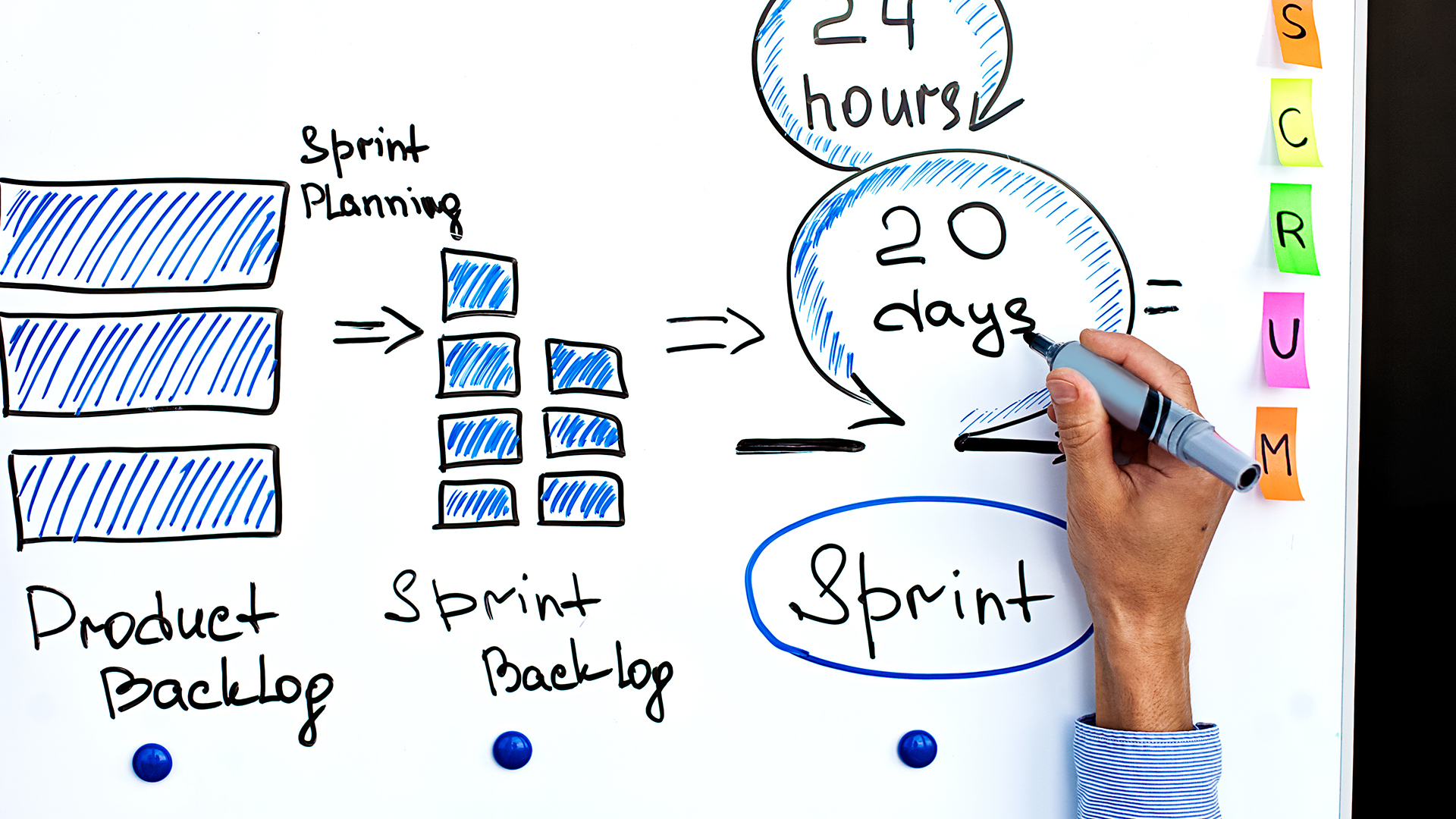 Scrum is the most popular agile framework for application development and it is also widely used in agile project models. Scrum, and the different self-created agile practices it has inspired in organisations, has been increasingly utilized in a wide range of industries outside the IT sector, including HR and media, see the blog on the use of Scrum outside IT (in finnish).
By using scrum at its purest form, or by combining it with other agile practices such as Kanban, organizations have gained financial savings, better value and quality, transparency in what they do, and more effective teams. Up to 97% of companies that have tried Scrum intend to continue its usage in the future.
What is scrum?
Scrum is a framework that helps you create value by solving complex problems in a flexible way. At the heart of scrum is a professional cross-functional team committed to achieving goals and solving customer and end-user challenges in the best possible way. To achieve this, teams need transparency into their working environment, as well as to the needs of customers and business. Additionally, the teams must be given regular opportunities to review their progress towards objectives, how well their daily practices and processes work, and their ability to deliver quality outcomes.
Scrum enables regular reflection and review by structuring the work of teams into cycles of one month or less (Sprint). At the beginning of each cycle, the most important goal at that moment and the necessary work to achieve it are clarified (Sprint Planning). As the team works towards its chosen goal (Sprint Goal), it reflects and monitors their progress towards that goal on a daily basis (Daily Scrum).
Finally, at the end of the cycle, the concrete result (Increment) of the chosen goal is reviewed together with stakeholders and key people outside the scrum team (Sprint Review). Additionally, progress and possible next steps towards the scrum team's long-term goal are clarified (Product Goal).
As a last thing before starting a new cycle, the Scrum Team reflects how their daily work in the future could become more efficient, of higher quality and more productive (Retrospective).
What scrum training is best suited for me?
When you want to understand the Scrum way of working and its guiding principles at a general level, the Scrum Fundamentals training is an excellent option for anyone interested in Scrum, regardless of responsibilities, roles and their environment.
TIn case you are working in a Scrum Team, for example as a Product Owner or Scrum Master, you can get a basic understanding of these accountabilities and Sprint execution from our Scrum Master I and Product Owner I trainings that prepare you for the corresponding certifications.
If you are already an experienced Scrum Master or Product Owner and want to deepen your knowledge and differentiate yourself from those with basic level certifications Scrum Master II and Product Owner II trainings that prepare you for the corresponding certifications.
When your responsibilities include supporting agile and Scrum teams as a manager and leader, we recommend the Scrum Fundamentals, Agile Leadership and OKR (Objectives and Key Results) trainings. In addition, we warmly recommend the Lean Portfolio Management from the SAFe framework if the goal is to improve the practices for managing larger projects and business initiatives in addition to improving individual agile teams.
In case you already understand Scrum way of working and its accountabilities and want to deepen your skills in agility without the need for formal certification, we offer a wide range of agile trainings.
Is Scrum Master or Product Owner the right training for me?
The Product Owner is responsible that the Scrum Team is working on the right things and focus on delivering the best outcome and value. In addition to the Scrum Team members, they work with a wide range of stakeholders, both inside and outside the organization, to understand the needs of the operational business functions and the end-user, as well as the long-term potential and development opportunities for their product.
The Scrum Master is responsible for the effectiveness of the team by enabling and helping the Scrum Team and the surrounding organization to work according to Scrum and agile principles. They can support and coach people to work productively, have good problem-solving skills, and the ability to create rapport with different people and get them to work collaboratively, efficiently, and relentlessly towards the chosen objectives.
In a customer-supplier environment, Product Owners often come from the business units of the buying organization and Scrum Masters from the supplier side. Product ownership typically lies with the organization that owns the product being developed. If the product is more of a ready-made finished product that the vendor is selling to a number of customers in different organizations, product ownership in these cases is often with the supplier organization and people in the customer organization act as the product's stakeholders.
The role of the traditional project manager is changing significantly in Scrum organizations, as the tasks and responsibilities of the project manager now belong to the Scrum Team's members (Scrum Master, Product Owner and Developers). Stakeholder engagement, budget responsibility, prioritisation and target schedules are part of the Product Owner's responsibilities. Removing impediments to work, supporting the progress of the development and creating efficient and sensible ways of working belong to the Scrum Master. Developers are responsible for identifying usable solutions to the different needs and challenges, ensuring good quality development practices are used, and managing their work towards completed objectives. Depending on the interests of project managers, they can become either Product Owners (commercially and business oriented) or Scrum Masters (obstacle removal, policy development and more technical focused).
Tieturi's Scrum trainings
Whether your goal is to gain a basic understanding of agility, complete the agile certification required for tendering, or to make your organization more agile, we have the answer.
Certified trainers with years of practical experience will guide you on your journey to becoming an agility expert.