SAFe Lean Portfolio Management with LPM Certification
In this two-day workshop style course, attendees gain the practical tools and techniques necessary to Implement the Lean Portfolio Management functions of Strategy and Investment Funding, Agile Portfolio Operations and Lean Governance.
Participants in the course have the opportunity to capture the current and the future state of their portfolio with the Portfolio Canvas Tool and identify important business initiatives for achieving the future state.
Participants also explore methods to establish portfolio flow with the Portfolio Kanban and prioritize initiative for maximum economic benefit. The course also provides insight on how to establish Value Stream Lean Budget and Budget Guardrails and measure the lean portfolio performance.
Target Group
CEO, CTO, program or Project Manager Release Train Engineer, Agile Coaches, SAFe program Consultant, Portfolio manager, Consultants
Goal
Completion of this course gives you access to the exam and all related study materials as part of your learning plan in the SAFe Community Platform.
Attendees who pass the certification exam will receive:
SAFe Lean Portfolio Manager Certificate
SAFe 5 Lean Portfolio Manager digital badge to promote your accomplishment online
A one-year certified membership as SAFe 5 Lean Portfolio manager, which includes the access to the community of practice LPM
A SAFe 5 Lean Portfolio Manager Certification usage guide with LPM certification marks
Access to a variety of learning resources to support certified professionals during their SAFe journey
For more information about the exam and benefits of becoming a certified SAFe professional, click here: more details for exam
Prerequisites
All are welcome to attend the course, Regardless of experience. However, the following prerequisites are highly recommended:
Familiarity with agile concepts and principles
Attended Leading SAFe or SAFe PM / PO Course
Experience working in a SAFe environment
Content of SAFe Lean Portfolio Management
Topics Covered
Introducing Lean Portfolio Management (LPM)
Establishing Strategy and Investment Funding
Applying Agile Portfolio Operations
Applying Lean Governance
Implementing the LPM function
Learning Goals
To perform the role of a Lean Portfolio Manager, attendees should be able to:
Describe Lean Portfolio Management (LPM)
Connect the Portfolio to Enterprise Strategy
Establish the Portfolio Vision
Implement Lean Budgeting and Guardrails
Establish flow with the Portfolio Kanban
Support operational excellence with an Agile Program Management Office (PMO) and Communities of Practice (COPs)
Coordinate Value Stream
Measure LPM performance
Build a plan for implementation LPM
Trainer
This training is provided with Olingo.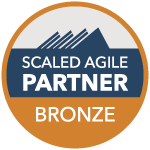 Saattaisit olla kiinnostunut myös näistä koulutuksista: